In-Office and Mobile Veterinary Care Options
At Home Pet Doctor offers the unique experience of in-office and mobile veterinary appointment options. We want to make it as easy and as convenient as possible to get your pet the care they need.
What to Expect at Your In-Office Appointment
Our office is conveniently located just one mile West of downtown Buena Vista, just outside the city limit, but still in a residential area. Our location has been officially approved by the Chaffee County Board of Commissioners as a home-based office. Please be respectful of our neighbors when you arrive and depart. All visits are by appointment only.
The fully-equipped mobile veterinary clinic is parked inside a climate-controlled RV garage attached to the main house. When arriving for appointments: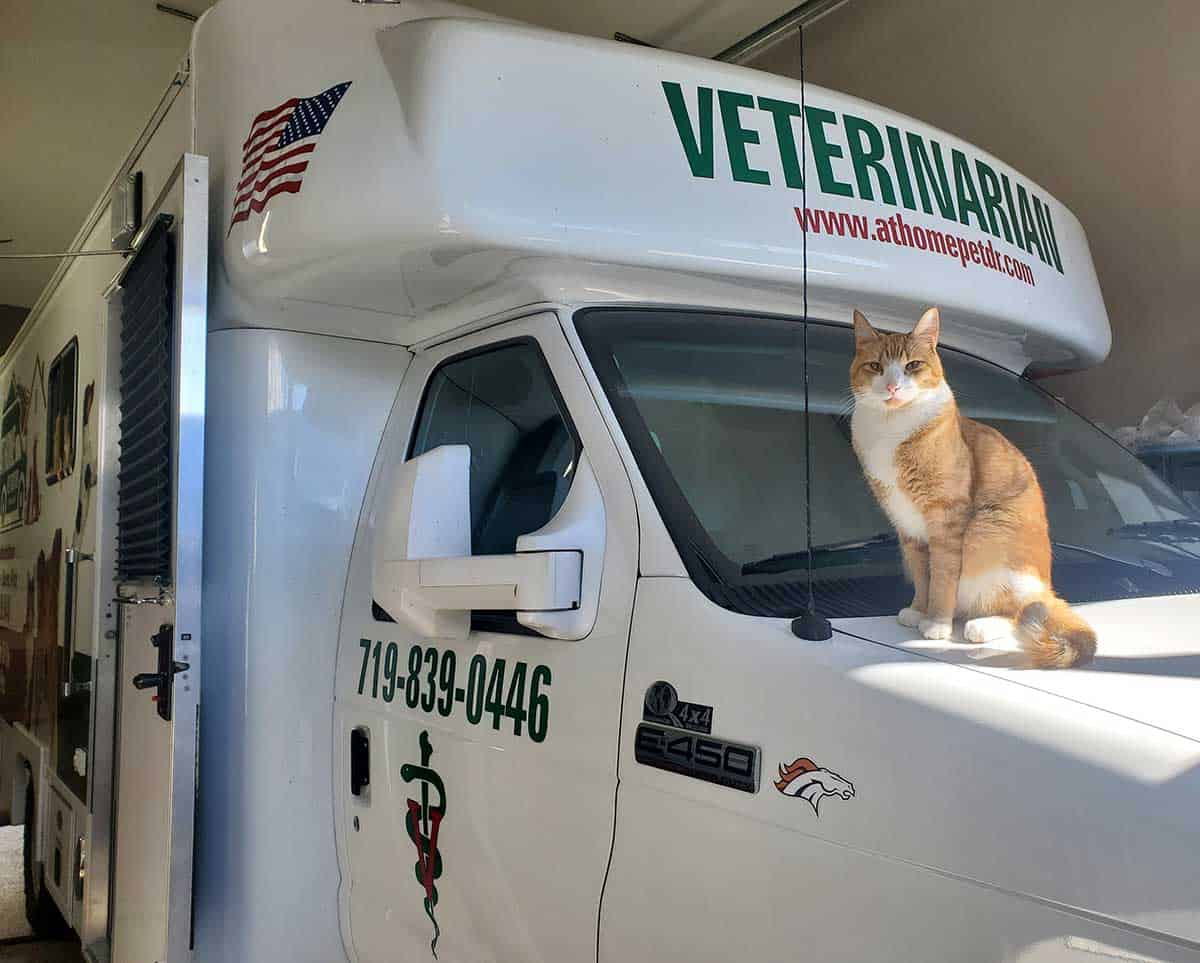 Please park directly in front of the RV garage door or just immediately to the right. If you are pulling a trailer, please park in the turn-around-circle in front of the house.
If you have not already done so, please complete the online registration form here.
Please wait inside your vehicle after you arrive. We will text you or signal for you to come inside. Your waiting time will be very short.
Appointments run on-time (barring unforeseen emergencies). There is no need to arrive early.
For security reasons, our doors remain locked until your appointment time. Our security cameras will notify us of your arrival. Please DO NOT knock on the door and please DO NOT go to the front door of the house.
Please transport your feline in a secure, inescapable carrier. We urge you NOT to carry your cat wrapped in a towel or an insecure box. Chances for escape are too great!
Please have your canines on a secure leash or harness. Distractions such as deer, bicyclists and motorcycles can scare a loose dog and the chances for your dog getting injured are too great.
Once inside the RV garage and clinic, we will weigh and photograph your pet. We will also take a full medical history. We allow a generous amount of time for each patient's exam and to answer any questions you may have. The exam will either occur inside the mobile clinic and/or in the office behind the mobile clinic. The office area is the best location for procuring the thermal images on medium and large canines.
A large, clean, and secure outdoor area with a slight hill is available for examining dogs with lameness/mobility issues (weather permitting). This also makes an ideal environment for collecting fecal and urine samples as needed. If you have come with multiple dogs, they can run around back here while waiting for their individual exams.
If your pet has arrived for surgery or a dental procedure, we will need you to sign a consent form. Your pet will be hospitalized for the duration of the procedure. Release times are generally mid-afternoon.
When you leave the premises, please use the circular turn-around area for your safe exit onto CR 306.
While masks are not required, we are happy to wear them if it makes you feel more comfortable during your visit.
Mobile Veterinary Visits
If you prefer to do your veterinary visits at home, we will bring our fully-equipped mobile veterinary clinic to you.
Payment Options
Payments are due at the time of service, we do not bill or invoice. We can accommodate credit cards, cash, and check payments. We gladly accept Mastercard, Visa, American Express, and Discover cards.