Pain Management for Colorado Pets
Nobody wants to see their pets in pain, which is why At Home Pet Doctor focuses so much on pain management. We have a Digital Infrared Thermal Imaging machine, which is a new technology in the veterinary world with only about 25,000 machines worldwide.
Digital Infrared Thermal Imaging (DIRI)
This physiological screening tool—supported with scientific evidence—will give us real-time information about the musculoskeletal, neurological, and circulatory systems of your pet. This allows us to see the unseen.
Thermal imaging uses a highly sensitive, state-of-the-art infrared camera to measure, compile, and analyze the electromagnetic energy emitted from a patient. We then use veterinary-specific software to convert the temperatures into a color palette where these thermal emissions can be easily visualized on the computer screen. Temperature data directly correlates to changes within the circulatory, nervous, and musculoskeletal systems.
The DIRI gives us valuable information that can't be gathered strictly by observation. Subtle changes in your pet's movement are often imperceptible to the naked eye.
When we spot hotter areas on the image, we can assume there are inflammatory lesions caused by injuries and arthritis, which causes pain and possibly even cancer. Cooler areas (imaged as purple, blue and green) reflect diminished blood flow that can be a result of issues like neurological disease.
We can typically capture the images in under five minutes, and it is a painless procedure that does not require sedation, anesthesia, or clipping of hair. Some of the benefits of this tool include:
Thermal screenings may help in early disease detection of the hips, elbows, joints, and back, which allows for earlier treatment and management.
Thermal imaging is a recommended first step in analyzing lumps and bumps to determine whether they are malignant or benign.
Owners are welcome to assist in the exam. It is safe for you, your pet and the veterinary examiner.
Thermal imaging can be included as part of the annual wellness examination or be a means to evaluate a patient who presents with a particular problem such as lameness or lethargy.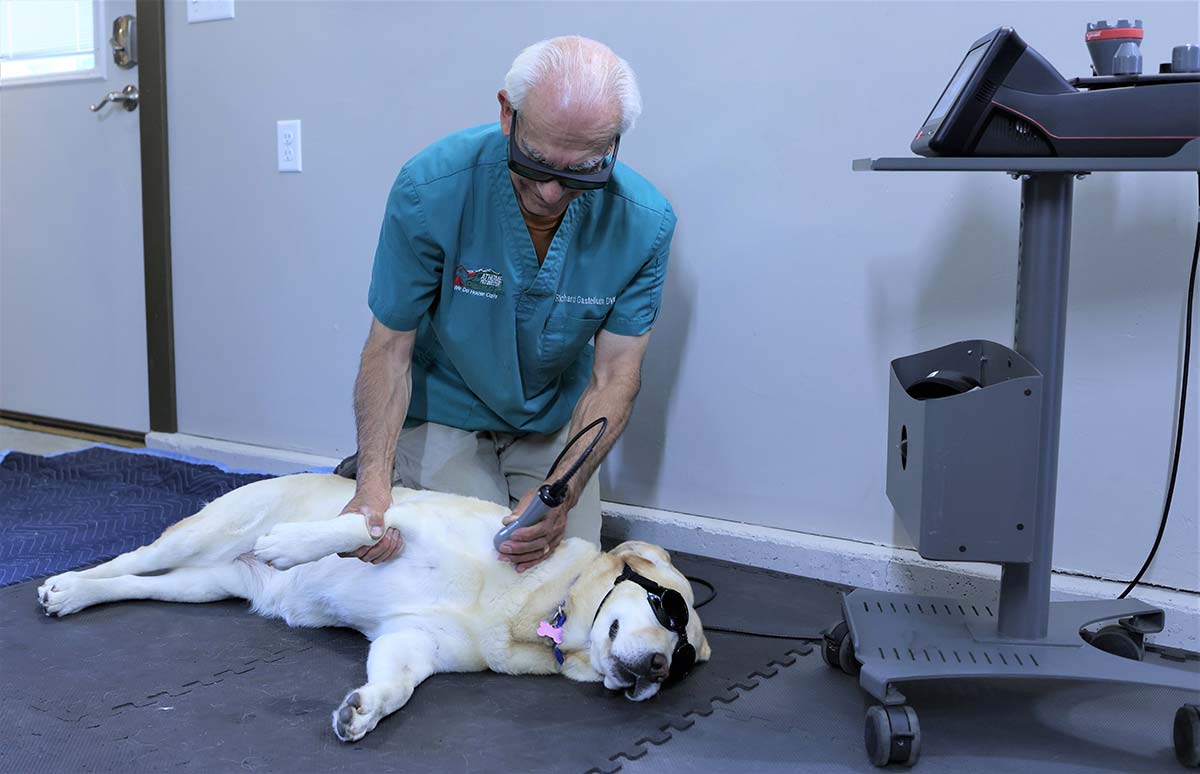 Photobiomodulation (aka Clinical Laser Therapy)
At Home Pet Doctor is pleased to provide Class IV laser therapy, which uses an intense beam of laser light directed into tissues with the goal of reducing pain, reducing inflammation, and accelerating healing.
Areas of pain and/or inflammation are often first detected by analysis of the thermal imaging scan.
Please click here to watch a short video presentation and a more in-depth look at how laser therapy works and here for more information about companion therapy lasers.
Conditions Treated By Laser Therapy
In a nutshell, patients presenting with pain, inflammation, post surgery or dental care are candidates for Class IV laser therapy, including:
Arthritis/Degenerative Joint Disease
Wounds
Ear infections
Sprains/strains to the limbs and paws
Muscle pain
Traumatic dermatitis/inflammatory skin lesions
Lick granulomas
Anal gland infections
Ear hematomas
Post-op incisions to lessen inflammation and enhance healing
Post-dental extraction to lessen inflammation and enhance healing
---
How It Works
Laser treatments usually only take 2–6 minutes for each affected area. Animals experience no pain during the procedure, but they might enjoy a gentle warming sensation in the tissue. The veterinarian, clients, and patients all wear appropriate protective eyewear during the therapy session.
Treatments will be designed based on the severity of the condition at hand. Some conditions require only a single treatment. Others require multiple treatments, and still others require long-term maintenance treatment after achieving clinical improvement.
To learn more about our pain management therapies and whether or not they are right for your pet, please call (719) 839-0446.