Low Volume, High-Quality Care for Colorado Pets
At Home Pet Doctor offers the unique veterinary experience of an outpatient/wellness facility offering in-office appointments with the option of house calls for those who prefer the veterinary care to come to them. Our mobile pet care practice is driven by three things: the doctor, the truck, and the belief that excellent pet care can be delivered affordably and conveniently.

Dr. Richard Gastellum is the sole practitioner of At Home Pet Doctor and both house calls and in-office visits are performed inside our state of the art mobile veterinary clinic. With a spacious interior, temperature regulation, two hydraulic lift tables, a full range of diagnostic equipment, and an in-house lab and pharmacy, we can provide safe, sanitary, and quality veterinary care when your pets need it. Please note, exams are by appointment only.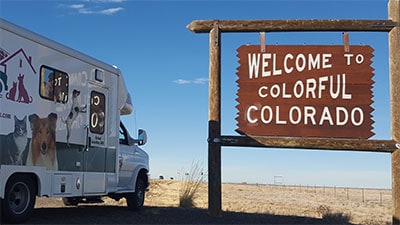 Benefits of Mobile Care
While we do offer plenty of appointment times in our office, we do provide the benefit of mobile visits as well. Mobile veterinary care offers:
Convenience—We work around your schedule and come to your home.
Less stress—Your pet is more comfortable when treated at home. No more rides in hot cars. No fear-induced aggression upon seeing other dogs/cats in waiting rooms.
Less hassle—No need to get your cat in a carrier or worry about your dog getting car sick. No more long commutes or traffic delays.
Personalized care—You and your pet have our undivided attention, and in cases of euthanasia, there is more privacy and dignity.
Focused care—If your pet needs sedation, anesthesia, or surgery, we provide constant observation in our clinic until he or she is stabilized, safe, and comfortable.
No waiting—No long waiting times in a busy clinic.
Safety—Lower risk of exposure to diseases that can linger in a hospital waiting room or kennel. Weak or sick pets can stay at home rather than travel.
At Home Pet Doctor is the ideal service for busy pet owners, senior pet owners, people with transportation issues, and owners of multiple pets. Contact us to learn more about our services today.
Mobile Veterinary Services of New Mexico
Dr. Gastellum started Mobile Veterinary Services of New Mexico (MVSNM) in 1990. This was one of the first full-service house call practices of the time. Most other providers only offered routine care (such as vaccinations) on a house call basis. Fully equipped mobile veterinary clinics were still in their infancy and the initial investment was huge for a still new graduate, especially starting from scratch and with accrued student debt.
While establishing clientele for 10 years, he used a minivan to do his calls and aligned with established veterinary clinics in town to do his surgeries.
In 2000, he purchased the first of two mobile veterinary clinics. Essentially a motorhome made into a clinic, this vehicle provided the means to do full service veterinary care on-site without the necessity of partnering with a veterinary clinic.
Fast forward to 2016. After a successful 26 year run in NM and sensing the need to heed the "call of the mountains" and with his second, state-of-the-art mobile clinic in hand, Dr. G and his wife Kelly relocated to Colorado.